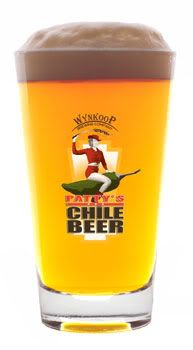 Last night, I headed over to
Wynkoop Brewery
in downtown Denver to meet up with some pals and a few chums; it was a swell to less-than-swell affair. Of course, I was able to indulge in one of my favorite beers of all-time: Patty's Chile Beer. I shit you not, this fine ale tastes like liquefied chili peppers. While the thought of a peppery beverage may sound unappealing to some, the beer really is scrumptious. The Wynkoop site provides the following specifications:
A light German-style beer made with Anaheim chiles and smoked Ancho peppers. A 2006 Great American Beer Festival Bronze Medal Winner in the Fruit and Vegetable Beer category and a Wynkoop specialty. ABV 4.2%.
On Tuesday, I also purchased the new, self-titled James Blake album. While
James Blake
was released digitally a month-or-so ago, I wanted to wait until the physical release to buy it. Most every cut is fantastic and will give you that special feeling in your trousers that informs you that you made the right decision by picking this album up. You know what I'm talking about.